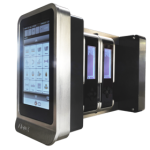 Operate your gas and liquid metering with your smartphone. The CDN16 gas and liquid computer has an embedded web system. It offers you the ability to configure and operate your remote installations using your web browser on your PCs, your tablets, and your Smartphones. The CDN 16 is designed for reliability in high-end gas and liquid applications, and includes all relevant API, AGA, ISO, IP and many other standards. It can be applied to a wide range of products including crude oil, refined products, biofuels and liquefied gas.
Sectors of application:
Liquid applications: Pipeline metering, loading and unloading of trucks, rail trucks or tankers.
Gas applications: Upstream metering, international cross-boarder metering stations, large interconnetion pipelines, underground storages, methane terminals.
Management of calibration system, prover and calculation of correction factor.
Key points:
Versatile concept: modular design, flexibility of module assembly, measurements of natural and industrial gases, crude oil, LNG, LPG, refined products and saturated vapour, freely configurable       communication.
Latest generation technology: state-of-the-art flow computer, design, automated production and assembly.
Main technical data:
Meter: volumetric meter, mass flow meter, ultrasonic flow meter, turbine meter, pressure meter.
Prover: ball prover with 2 or 4 detector inputs, piston prover, master meter.
Temperature: 4-20mA transmitter or 4-wire Pt100.
Pressure and differential pressure: 4-20mA transmitters.
Density: frequency or 4-20mA transmitters.
A comptact field mounted flow computer. CDV15 operates in standalone mode, thanks to its low-energy consumption. Energy can be supplied by built-in batteries or external solar panels. CDV15 also provides energy metering data with the management of a chromatograph or a calorimeter.
Sectors of application:
Transport-distribution interface delivery station.
Transport or distribution industrial delivery station.
Electricity generation station.
Key points:
All metering applications: "light", "base" and "high" versions, varied application references.
Easy commissioning: easy installation, all-terrain installation.
Standalone operation: battery-powered, optimised energy management.
Extended data logging and communication functions.
Main technical data:
Meter: volumetric, ultrasonic, turbine meters and differential pressure system.
Gas quality: chromatograph or calorimeter by serial link.
Temperature: Pt100 or 4-20mA transmitter.
Pressure: dedicated digital sensor or 4-20mA transmitter.
For natural and industrial gases. The CDV15-4 is a field flow computer dedicated to gas flow metering by differential pressure measurement with embedded differential pressure sensor. It is ATEX approved and can measure natural gas and industrial gases. Used with a chromatograph or calorimeter it can also provide an energy metering function. The CDV15-4 operates in standalone mode. It can be used for monitoring and safeguarding metering stations during production, transport, cross-border metering and natural gas storage facilities.
Sectors of application:
Autonomous back-up metering at major international stations.
Natural gas delivery station.
Industrial process metering.
Power plant input metering.
Key points:
ATEX approved equipment for installation in the measuring area.
Standalone electric supply.
Powered by solar panel with battery system and charger.
Data acquisition optimisation with automatic management of return to stand-by mode.
The LOG15 is entirely standalone. The LOG15 is a site data logger for use in ATEX areas and intended for the metering of all types of gas. It works in autonomous mode thanks to low consumption powered by battery or solar panel. With its modular design the LOG15 is adapted to all market requirements in the field of data acquisition and recording in oil and gas stations.
Sectors of application:
Gas transport and distribution networks.
Monitoring and pressure control for delivery stations.
Back-up metering at international stations.
Industrial process control

Key points:
Easy installation on site in hazardous areas.
Totally autonomous operational mode.
Easy operation for local or remote use.
Extended recording and communication functions.
High recording capacity: 5 000 000 data items.
Main technical data:
Operating Temperature :-40 °C to +70 °C.
Relative Humidity <= 98% non condensing.